The Davis Dyslexia Correction® Program includes:
Five consecutive days of one-to-one facilitation (ages 8 and up).
Support training for client's family, tutor(s) or teacher(s) on the afternoon of the last day to ensure post-program follow-up and success.
All necessary take-home materials for program follow-up.
Three return follow-up visits (if necessary) and unlimited phone/email consultations.
Program Prerequisites
For the Davis Program to be effective, a person must be personally motivated and willing to improve some aspect of learning or school performance.
The Davis Dyslexia Correction program is a DRUG FREE solution. Therefore, before a program can be scheduled, clients must disclose all medications. If you have any questions about these requirements, please call 832-724-0492 or email newperceptions@windstream.net.
Programs Available
To read more about available programs, click the links below.
Davis Dyslexia Correction® Program
Davis Math Mastery® Program (external link)
Davis® Attention Mastery Program for ADD/ADHD (external link)
Davis® Reading Program for Young Learners (external link)
When Ron Davis' revolutionary book was first published in 1994, The Gift of Dyslexia shone new light on visual-spatial learners and started a shift in perception about dyslexia.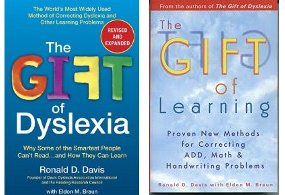 His second book, The Gift of Learning, is now changing perceptions about ADD and ADHD. It also covers solutions for Dyscalculia (math) and Dysgraphia (handwriting).
---
My son, Colton, was struggling with not only reading but a defeated self confidence. He hated school and felt that he was stupid because he could not read when his classmates could. Children at school did not help things any as they tend to be cruel in their mocking and lack of patience for any difference. When I read the book "The Gift of Dyslexia" it was life-changing. I instantly new that the inside perspective was describing my child. I contacted Casey and set up a consult. I fell in love with her over the phone and could feel her care and understanding for the children instantly. After she evaluated Colton he was so excited........ And our journey began to change his life only for the better, forever. He now does beautifully in school and loves going every day, which I never thought would happen. We are forever grateful for the gift Casey has given us. We know that he can do whatever he wants in the future because he is not limited by not being able to read.

- Dodie Darlow
Overview of the Davis® Programs
Davis Orientation Counseling®, as outlined in The Gift of Dyslexia by Ronald D. Davis, provides clients with the ability to detect and self-correct distorted perception caused by confusion with letters, words, numerals, and other symbols.
Working with clay allows for confusion to be realized and resolved - in a multi-dimensional, creative way that fits the dyslexic thinking and learning style.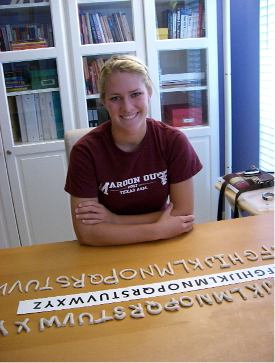 Clients start by resolving confusion with the basic literacy symbols, including letters (above) and punctuation marks.
---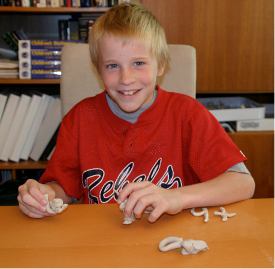 Clients then work with clay to master words that do not give them a picture. We call these "trigger words" and there are 219 words identified by Davis that need to be mastered. Most of these will be done following the one-week program.